Snack Attack!
Consumers are snacking from morning 'til night…
is your deli prepared to profit?
By Maya Dollarhide
Do your customers think of your deli as a go-to stop for snacking?
If not, you're passing up an opportunity to capitalize on shoppers' growing penchant for noshing throughout the day.
According to the 2014 The Snacking Occasion Consumer Trend Report from Chicago-based research firm Technomic, Inc., 51 percent of today's consumers say they eat snacks at least twice a day, up from the 48 percent in 2012. Additionally, 31 percent of respondents revealed they're snacking more frequently than just two years ago.
Frequency, of course, is only part of the growing trend toward snacking. Exactly when hungry consumers typically go looking for snacks is equally important to deli retailers. Some keys to boosting sales can be found in Technomic's trend report. It reveals that nearly half of today's consumers eat snacks between meals, and 45 percent replace one or two daily meals with a snack.
"Overall, there is a shift in dining habits towards eating smaller meals throughout the day," Anne Mills, consumer research manager at Technomic, says.
"With the rise of snacking, the line between dayparts is fading and consumers are looking to eat what they want, when they want it."
—Anne Mills, consumer research manager, Technomic
The study also revealed that Middle Millennials (ages 26 to 30) are snacking most during the late afternoon and before dinner, and are least likely to bring snacks from home. Older Millennials (ages 31 to 36) are snacking mid-morning and late afternoon, with no change in behavior from a year ago. This group enjoys cheese, nuts, and bakery items as snacks more than any other age group and are the most likely to bring snacks from home, the study showed.
While preferences vary, low fat, low calorie, and low trans fat foods are leading the trend toward snacking, the Nielsen Perishables Group reported this year. Additionally, these trend leaders are followed by protein-based snacks and snacks with high nutritional content, they say.
In this study, fifty percent of consumers indicate that healthfulness is very important to them when choosing a snack. Portability is also increasingly vital: It was cited by 60 percent of today's consumers, as either "important" or "extremely important" when choosing
a snack. That's up from 55 percent in 2012."
Also, many consumers, especially younger consumers, have an on-the-go lifestyle and smaller, portable or hand-held items are going to work better for the on-the-go consumer," says Anne Mills, Consumer Research Manager at Technomic, Inc.
So important are the habits of Millennials (born from
1980 to 2000) to the overall market for snack products that Y-Pulse and The Culinary Visions Panel (culinaryvisions.org/ourwork.html) conducted an age-specific study with over 1,000 of these consumers. Their objective was to better understand the factors that drive snack purchase decisions for segments of this market – consumers in different age groups and life stages. According to "Dividing the Millennial Generation: Snacking Behavior by Age and Lifestyle, 2014," younger Millennials (ages 19 to 25) are snacking more often in the past year, yet are cooking at home more often, too. These younger Millennials have a "snack throughout the day" lifestyle.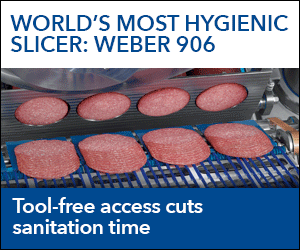 How Retailers and Restaurants Can Respond
These days, consumers consider a wider range of foods and beverages as snacks than ever before.
This means retail delis as well as foodservice operators should look beyond fruit and chips as top snack options, and consider how food can be portioned, packaged and sold as snacks—think mini sandwiches, single-serve containers, and meal-like items reduced to snack size.
"Retailers are still the predominant source for snacks, and they can leverage traffic [already] in their stores to push foodservice items," says Mills. "Given that consumers consider a wide array of items to be suitable snacks, there is opportunity to position foods and beverages not just as a meal, but appropriate for snack occasions as well."
"What's in Store 2014," the annual trends publication of the International Dairy-Deli-Bakery Association (IDDBA), offered suggestions for retailers to capitalize on the demand for food that is both convenient and healthy.
"Convenience and creativity exist at opposite ends of the cooking spectrum and consumers are searching for a sweet spot between them," Laurie Demeritt, CEO, The Hartman Group, told IDDBA. "The desire is high on the part of the consumers to look to the fresh departments as a space for healthful snacking." Offering portable, easy-to-eat, easy-to-prepare options in snack-size portions is one way to deliver what those consumers are seeking.
At Ralph's Grocery & Deli in Seattle, for example, shoppers in the mood for a satisfying snack can order most of the sandwiches featured on the service deli's menu in half-size portions.
Creating a "suggestion sheet" featuring examples of such healthy, creative snacking options, then handing it out with coupons for deli meats and cheeses, is one way to show shoppers the deli can be a snack food destination. Other ideas: cross-merchandise deli items with fruits, crackers, snack-size salads and dips, or create a single-serve package featuring the small sandwiches and wraps often featured on deli party platters and market it as a grab-and-go snack.
Darren Tristano, executive vice president of Technomic, says snacking represents a growth channel for restaurant operators, as well.
"The retail market is aggressively promoting snacks, but there's plenty of room for restaurants to expand their snack programs and grab share," he says. "By providing more innovative, healthy and easily portable snacks, and boosting variety, restaurants can position themselves to increase incremental traffic and sales—particularly among a younger customer base."
Dunkin' Donuts is among foodservice operators trying to snap up snack customers. The chain has expanded its sandwich offerings to attract more afternoon business. But don't label the sandwiches, which include fried chicken and grilled cheese, lunch. As Dunkin' Brands CEO Nigel Travis stressed during a recent interview with the AP, "We're not moving into lunch. We're in snacking. We never talk about lunch."
"McDonald's, too, is appealing to customers who don't necessarily want a full meal with items like its snack wraps that, according to its website, provide "…a little pick-me-up to get you through the afternoon."
"Snacking will likely continue to grow as consumers' dining habits shift and dayparts blur," says Mills, noting that stores likely will offer more snack-appropriate items as the market for Retail Meal Solutions (RMS) grows. "For example, c-stores are a top destination for snacks, so as they expand into the RMS sector, they are going have more pre-prepared or made-to-order items that consumers may potentially purchase as snacks.
"The increase in snacking is primarily being driven by younger consumers, indicating that this is something that may grow as these consumers age and earn more spending power," Mills continues. "I think this will affect multiple categories and segments in the industry considering the wide array of food and beverages that consumers eat as snacks."
"MyPlate Snack Tips for Parents," found at www.choosemyplate.gov, notes that nibbling on protein such as low-sodium deli meats—wrapping sliced, low-sodium deli turkey or ham around an apple wedge, for example—is one way to snack well.

Companies Introduce Snack Appropiate Products
As the incidence of snacking continues to rise, food companies are developing products to appeal to shoppers who want small bites throughout the day. Oscar Mayer, for example, recently launched the Protein Power Pack (P3), a new snack pack designed for the adult market. Each pack of P3—promoted by the company as a healthy, grab-and-go snack solution—includes various combinations of deli meat, cheese and nuts that deliver 13 to 14 grams of protein per pack.
The P3 is just one of several new items on the market designed to appeal to a snack-loving crowd. Other products seen at the 2014 International Dairy Deli Bakery Association Expo in June:
*Dubliner Cracker Cut Cheese from Kerrygold in convenient, cracker-size slices to satisfy consumer demand for healthy snacking choices
*Wholly Guacamole 100-calorie Minis in 2-ounce plastic cups
*Salamini, bite-size, ready-to-eat salami from Olli Salumeria packaged in 3-ounce pouches