for Plant-Based Meat Substitutes
The University of California Berkeley might seem like a place where plant-based meat substitutes would fare well in cafeterias or campus c-stores. But in the classroom?
That is exactly where plant-based meat substitutes landed this spring, when The Good Food Institute and the University's Sutardja Center for Entrepreneurship and Technology launched the world's first course on plant-based meats. The four-credit "Challenge Lab" tasked teams of students with developing the best plant-based meat as part of an exercise exploring the ethical debate over meat production and its impacts on the environment.
More than a grade was at stake: There was a $5,000 prize earmarked for the winning team.
In early May, two teams split that prize – one that delivered a plant-based alternative to shellfish, another that created an affordable and consistent extruder to transform plant proteins into plant-based meats.
The California class is just one sign that the future of plant-based meat substitutes is bright. Industry data is another.
​
According to Meat Substitute Market – Growth, Trends and Forecasts (2017 - 2022), a report from Mordor Intelligence, the global meat substitute market is steadily growing at a compound annual growth rate (CAGR) of 6.8 percent. Global Meat Substitutes Market Analysis & Trends – Industry Forecast to 2025, a report from Accuracy Research, is equally positive. That study shows the market poised to grow at a CAGR of approximately 7.9 percent over the next decade to reach approximately $7.48 billion by 2025.
In 2015, when the U.S. Department of Health and Human Services and U.S. Department of Agriculture released the 2015–2020 Dietary Guidelines for Americans, it touted plant-based proteins as an important part of a healthy diet.
"Consistent evidence indicates that, in general, a dietary pattern that is higher in plant-based foods, such as vegetables, fruits, whole grains, legumes, nuts, and seeds, and lower in animal-based foods is more health promoting and is associated with lesser environmental impact (GHG emissions and energy, land, and water use) than is the current average U.S. diet," the Scientific Report of the 2015 Dietary Guidelines Advisory Committee says.
"Consumers," the Soyfoods Council notes, "are starting to listen. According to market research firm NPD Group, 50 percent of those seeking more protein in their diets say that plant protein is the best source of protein."
In fact, an impressive 78 percent of households prepare meat alternatives for dinner at least once a week – a fact that helped Refrigerated Meat Alternatives (including deli favorites such as meatless deli slices and meatless bacon) reach $595.6 million in total U.S. retail sales in 2016, research from Sloan Trends Inc. and the Soyfoods Council shows.
Five factors are driving the sales of plant-based food products: the desire to eat more healthfully, interest in sustainable foods, ethnic population growth, an abundance of soy foods, and high interest among Millennials, Sloan Trends Inc. and The Soyfoods Council report.
​

What's Driving The Meat Substitutes Trend
Data courtesy of Sloan Trends Inc. and The Soyfoods Council.
Millennials, in fact, are the biggest boosters of plant-based meat substitutes. Sixty-four percent of that important demographic group ate meatless burgers and 53 percent ate meatless deli slices in 2016, according to data from Sloan Trends Inc. and The Soyfoods Council.
And while meatless meals are gaining popularity worldwide, the U.S. is the top meat substitutes market, according to The Meat Substitutes Global Forecast through 2020, a report from global research firm MarketsandMarkets.
"As the U.S. is a leading global soybean producer, the consumption and future growth potential for the U.S. meat substitutes market is substantial…16 million vegetarians live in the U.S. alone, providing stable purchasing power for meat substitutes market," a summary of the report, provided by The Plant Based Foods Association (plantbasedfoods.org), says.
In October 2016, Tyson Foods became the latest major company to dip its toe into the plant-based meat substitutes market when it took a five percent ownership stake in Beyond Meat, a producer of plant-based protein products including burgers, chicken strips and crumbles that was founded in 2009.
That investment "…underscores the growing market for plant protein," Ethan Brown, Beyond Meat's founder and CEO, said in a statement announcing the deal.
Considering projections about the future of plant-based proteins, it isn't surprising to see newcomers seeking a share of the burgeoning category.
But there are old-timers who identified the market long ago and now are reaping the rewards of their prescient investment in meat substitutes.
Seth Tibbott is one of those old-timers. His experience with plant-based meat substitutes dates to 1980 – long before most people had ever heard the term.
"Thirty-seven years ago there was nothing – if you were a vegan or vegetarian, you were making your own granola and yogurt," recalls Tibbott, who founded Tofurky in 1980 after making from-scratch tempeh to share with his family and friends.
The company is now a leading purveyor of plant-based meat substitutes, including deli slices, veggie burgers, sausage and frozen products.
​

"Our retail products are doing very well. We're in 17,000 stores worldwide," says Tibbott, who expanded operations and opened a LEED facility in 2016 to keep up with demand.
In light of the category's increasing popularity, Tofurky is now embarking on a foodservice venture, with a focus on prepared sandwiches in the UK.
"What is striking in convenience stores in the UK is that they all have around 300 sandwiches in the grab-and-go cooler – and only three or four disheveled packages are left at the end of the day," Tibbott explains. "We went over there with our products to a lunch show and had great success, so we did a mockup of a Tofurky wedge sandwich, found a sandwich maker in London, and are now in the final stages of launching a range of Tofurky sandwiches in the UK system."
It is just the first step in a plan to expand Tofurky's reach.
"We're just getting our hands around an approach for pre-made sandwiches, and are very interested in branching out and exploring grab-and-go in the U.S.," Tibbott continues. "There is a huge need and a huge niche that is not being addressed."
As the Meat Substitutes Global Forecast through 2020 notes, the perception of taste is one barrier producers of plant-based meat substitutes must overcome.
That is where the quality of a company's slicing operation plays a prominent role.
"When you're developing products, taste is king, value is queen, and texture is the twin brother or sister of taste – it is at least the prince!" Tibbott laughs. "[The right] texture is often the hardest thing to achieve, and it really comes down to how product goes through the equipment. Slicing it in the lab is one thing, but slicing thousands of pounds is another – it goes through extruders differently then than it does in the lab, and texture at that point is the hardest thing to get right."
Weber has been instrumental in helping Tofurky overcome that slicing challenge.
Tofurky's deli sliced sandwich.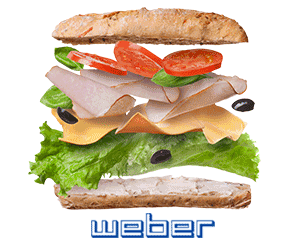 "With Weber we can go to very thin sliced products for better taste and texture," says Tibbott, who just bought a Weber 804 slicer. "When we've loaded chubs into the slicing chamber, we've had really good luck with the texture coming off of Weber slicers."