New Traceability Guidelines Designed to Boost Food Safety
Colleen Ghelfi is quick to acknowledge it could have been worse.
Ghelfi's 11-year-old son Joey lost about 10 pounds in June after suffering a severe intestinal reaction to eating a turkey sandwich linked to salmonella contamination at a Jewel-Osco deli in suburban Chicago.
"It could have potentially killed someone," says Ghelfi, who is suing the store where she purchased the meat.
"I feel like somebody made a mistake, and whether it's that the deli employees need to be retrained or the meat company needs to be retrained, somewhere along the line people need to be more careful. You go to a store expecting the food to be safe."
According to the Cook County Department of Public Health, laboratory tests confirmed 18 salmonella cases, and all of the people sickened had the same strain. "We're considering it an outbreak from the Jewel deli. We're not naming a food source," Amy Poore, a spokeswoman for the county, says. (Calls to Jewel-Osco were not returned.)
That kind of outbreak, and the fallout from such food safety incidents, are among factors that prompted GS1 US, the domestic arm of the international information standards organization dedicated to solving supply chain problems, to create The GS1 Implementation Guide for Traceability for Dairy, Deli and Bakery. The guide—a collaborative effort between the International Dairy-Deli-Bakery Association, International Dairy Foods Association and GS1 US— was released October 2013, to help businesses effectively manage traceability, and to improve supply chain transparency about products from creation to consumption.
Clay Detlefsen, vice president and counsel at the International Dairy Foods Association
"If something goes wrong, we'll be able to get it out of the market faster, maybe even prevent it from getting into the marketplace so fewer people are at risk."
RECALLED IN 2010
Wright County/Hillandale Farms Eggs
Over a half billion eggs
Reason: Salmonella
More than 500,000,000 eggs
Interest in best practices for traceability grew in 2008 after multiple food recalls, according to Angela Fernandez, vice president of retail, grocery and foodservice at GS1.
Among many incidents sparking concern: a 2006 E. coli contamination of fresh spinach that experts couldn't trace back to the source, and a subsequent salmonella outbreak in 2008 initially thought to be linked to tomatoes, but turned out to involve peppers instead.
Tracing Interest in Traceability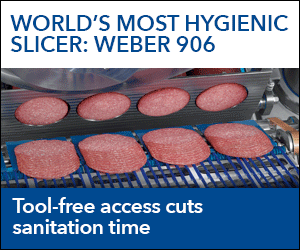 Without a clear cause-and-effect, the impact from those events reverberated to companies and producers that weren't directly involved—and that, experts say, underscores why traceability is so important.
"No enterprise can risk the fallout that can come from consumers losing faith in a product, brand or business," said Jose Vega, marketing manager at Datalogic ADC, Inc., in Eugene, Ore. The importance of traceability can be measured in business impact, legal ramifications and ethical responsibility, he adds. "In the age of instant communications and social networking, it is foolhardy to ignore the importance of food safety and traceability."
New Guidelines Emphasize Enhanced Bar Codes
While industry experts predict The Food Safety Modernization Act (FSMA) of 2011—once fully implemented—will likely mandate additional traceability requirements for high-risk foods, The GS1 Implementation Guide for Traceability for Dairy, Deli and Bakery takes a voluntary approach toward best practices that proactive supply chain partners should follow.
Utilizing updated, product-specific barcodes to help speed the identification process is a key best practice on which the guide focuses.
"If something goes wrong, we'll be able to get it out of the market faster, maybe even prevent it from getting into the marketplace so fewer people are at risk," says Clay Detlefsen, vice president and counsel at IDFA, who worked with GS1 on the new guide.
In addition to using Global Trade Item Numbers (GTINs), the standardized and globally-unique way to identify items traded in the supply chain, GS1 recommends that manufacturers, processors and brand owners assign separate bar codes for each packaging type (i.e. fixed or variable measure); for each primary refrigeration state in which a product is marketed (i.e. shelf stable or chilled); to product lots that have different marketing claims or production methods (i.e. further-finished, bulk or organic); and for each different product configuration.
All manufacturers also should assign batch/lot numbers or serial numbers to products they create, the guide recommends.
"Bar codes can play a significant role in preventing a food safety incident and limiting exposure should an incident arise. In a simple application, deli employees can use bar code scanners to quickly audit fresh pack item to identify products that are out of date," Vega says. "The bar codes eliminate the manual sighting of information and prevent human error." If, by chance, a potentially threating item is missed, she explains, the POS scanner at checkout will highlight the error and prevent out-of-date products from being sold.
As the GS1 guide notes, scanning products at retail point of sale is a widespread practice, but scanning them as they move from the warehouse to the store is the exception rather than the rule. To improve traceability, the guide recommends scanning products as they enter a warehouse and as they leave it, as they are opened for processing or consumer display, and again as they are received by the retailer or foodservice operator.
Suppliers and shippers should provide the following data to all recipients, the guide recommends:
• Contact information for the shipper and transporting
company;
• Trailer and container identification;
• Delivery location of each facility involved;
• GTINs, brand and item description, carton and case
configuration and lot numbers of each product;
• Total number of logistic units delivered to each location
involved;
• Delivery time, date and location of dock door where
product was received.
In turn, all recipients—including retailers and foodservice businesses—should record the date and quantity of product received. Retailers also should label traceability markings for the store-processed, variable-measure consumer items often sold in a deli, and make sure product descriptions and sell-by dates are in a format that is easily read by humans, the GS1 guide advises.
Partners supplying products or ingredients to delis should include the provider's identity, information about product origin, purchase order number or live receiving ticket for product received, date of shipment and receipt, carrier name and trailer number, item identification and piece count, and batch/lot code for each case, the guide says.
It also encourages supply chain partners to use the Rapid Recall Exchange (www.rapidrecallexchange.org ), an online service commissioned by the Food Marketing Institute and developed by GS1 with FMI and the Grocery Manufacturers Association, that allows companies to provide or receive product recall and withdrawal information at any time of the day or night.
The anatomy of a GS1 bar code
Cabot Creamery, a Waitsfield, Vt.-based unit of Agri-Mark dairy cooperative that sells cheese in 15,000 U.S. retail locations, is one company doing all it can to improve its traceability practices. The company worked with GS1 to develop the new traceability guide.
"We've been pretty much proactive in making the changes we needed to our processes and standards, and being able to trace our product all the way back," Susan Zucker, director of Cabot's supply chain, reports.
Nothing "cheesy" about these traceability efforts
The company was on the forefront of GS1's data synchronization initiative, launched in 2008. "It was the very first time we talked about how do we talk to our partners in the same language," Zucker says. "We standardized all the information we wanted to communicate," such as size, weight, color, case size and unit size."
In 2010, Cabot adopted the GS1 128 expanded bar code, adding it to all of its cases and using it internally. The serialized bar code has application identifiers to help trace the case and tie it into the ingredients used. The previous bar code identified the type of product, but didn't convey the expiration date or the lot code.
"Every company gives their production make a number. That means it's attached to that product and it goes through the system. So if you get a bar of cheese, you can say, 'Where did this come from?'" Zucker says.
Taking it one step further, Cabot is improving lot code standardization so all information will be easy for retailers to see on a product case. Cabot wants it to be apparent when a retailer goes into a warehouse what product has to be taken down without having to scan a bar code. The company also is following the traceability recommendations that advise dairy foods companies to make the lot code readable on the label and in the bar code. "
Retailers need to be able to read your label. They need to be able to recognize product to pull off the shelves. Eventually it will be electronically communicated, but right now if they get a recall, they need to go and look at the cases," Zucker says.
"If there was cheese that had salmonella that was discovered at the retailers, they're going to be able to look at the packaging, look at the record they have, and trace it all the way back to anything that was cut from that product, the milk," she continues. "They'll go backward to figure out where in the supply chain this occurred and how to figure out everyone else who was impacted."
"Most deli operators have not had a safety issue to deal with so they remain business as usual. The challenge is understanding that one safety issue can put a deli operation out of business, and technology exists that can mitigate that and help lessen the impact."
—Jose Vega, Datalogic ADC, Inc.
Overcoming obstacles. Enhancing profitability.
Since GS1 released the traceability implementation guide October 2013, as of mid-July it had counted about 400 downloads. While many companies are still digesting the GS1 recommendations, the technology for the extended bar code it recommends is available today, Fernandez says. However, it could require some changes to in-line printing or packaging; the cost for technology upgrades could be a factor.
"At the end of the day, it's really hard to put a cost or range of cost in there because it's so dynamic," she says. The cost depends on the number of manufacturing lines or store locations involved, and on how easily an existing system could be updated.
But Fernandez also points out the savings the updates will bring in labor costs from improved efficiencies and risk mitigation. "It's almost like an insurance policy—'I want to implement it so if something happens, I can answer the questions,'" she says.
The primary obstacle to improving traceability may be convincing deli operators to embrace the changes. As a group, some believe, they don't always recognize the ROI of improving food safety and traceability until a problem arises.
"Most deli operators have not had a safety issue to deal with, so they remain in a mode of business as usual," Vega says. "The challenge is understanding that one safety issue can put a deli operation out of business, and that technology exists that can mitigate that and help lessen the impact."
Vega believes the investment is worthwhile for deli operators. "When a deli implements bar codes they do more than protect themselves against a food safety problem. They increase their overall operational efficiency and increase their customer service. The impact is across the entire operation and the benefits are seen instantly in greater revenue and profitability."
The cost of problems is more than monetary.
Revenue and profitability are not top of mind for Ghelfi, who was still waiting in mid-July for information about what caused the salmonella contamination that sickened her son. "He hasn't had a sandwich since. I don't think it's just turkey that he is worried about, she says. "It's overall. He is asking me, 'Can this give me salmonella?'"
Ghelfi is also recovering. "Before this happened, Jewel was my primary grocery store, and now I'm kind of grossed out. I'm still getting over it," she says.
While it is unlikely that traceability enhancements will totally eliminate unfortunate incidents like the Ghelfi family's, the new guidelines bring the industry an important step closer to a safe food supply.
As Fernandez concludes, "By utilizing GS1 Standards for external product traceability, the entire industry will see improvements in supply chain visibility, business efficiency and food safety."
Just in time for holiday parties...
This might be the best news ever; British researchers from Newcastle University say that bacon may actually help alleviate hangovers because it contains amino acids that help replace neurotransmitters that become depleted during heavy drinking.
Let us know whether, as a result of this news, your bacon sales spike on January 2, 2015!
BACON MIGHT CURE HANGOVERS!